SimplyConvert

Platform
SimplyConvert is rich with features to help manage your intake process
Start with the Right Client Intake Questions
Utilize case criteria developed by leading lawyers in each practice area or litigation. As litigations develop, changes are made to the criteria in real-time. Automatic lead ranking helps you sort and assess your caseload. With case criteria available for more than 125 litigations and practice areas, you can be set up to start taking cases in a new area in minutes.
Instantly Evaluate Cases All Day, Every Day
SimplyConvert's Instant Case Evaluator engages legal consumers in conversation and takes them through a series of criteria-based questions. When your case criteria is met, you can choose to manually send your contract or utilize our available automated contracting to immediately ask qualified individuals to sign your retainer agreement.
The Instant Case Evaluator is available in multiple formats, including:
Smart Contact Forms
Call Center Integration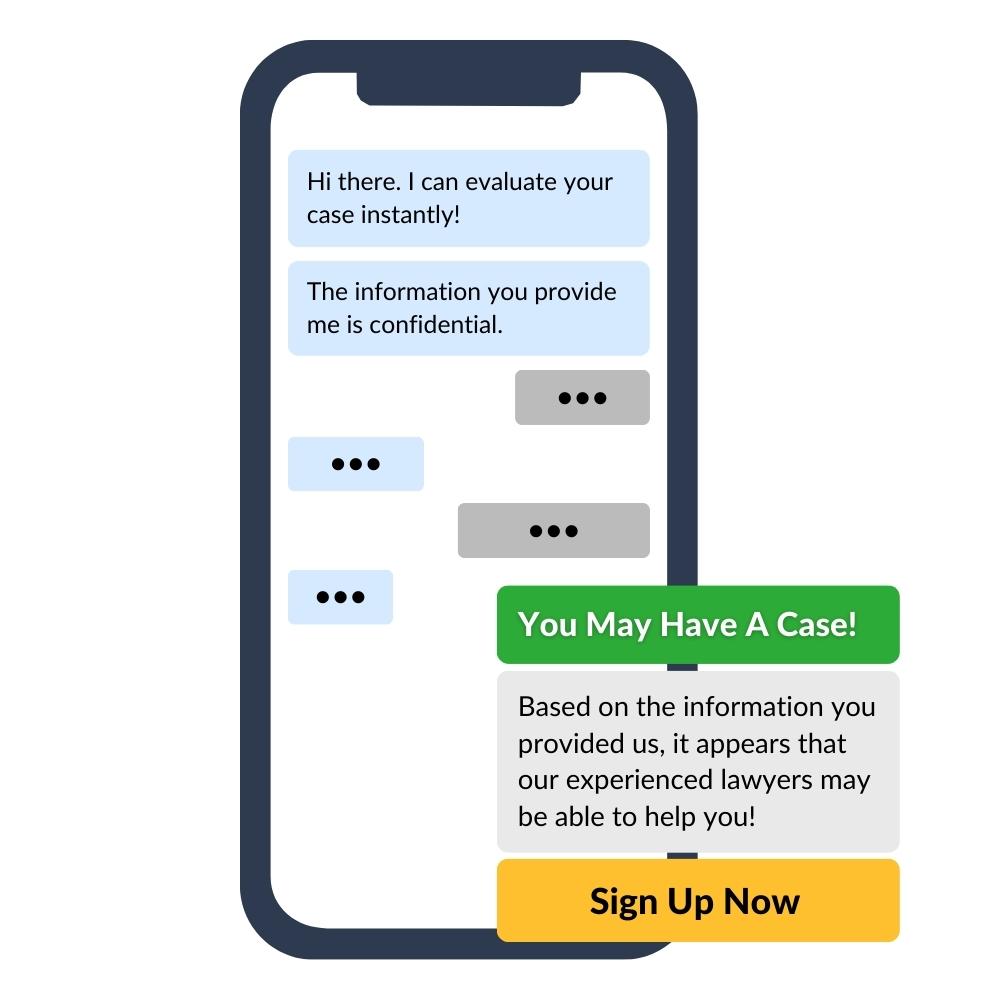 Auto Follow-Up with Qualified Leads
Pre-written drip marketing campaigns nurture qualified potential clients that aren't quite ready to sign your retainer, answering FAQs, explaining the process, and keeping your firm top of mind.
Get Notified in Real-Time
You and your staff are notified about new clients immediately and can login to the dashboard to view details.
Reach Out to the Client Right Away
A letter or video from you personally introduces your firm to the client and tells them what to expect next.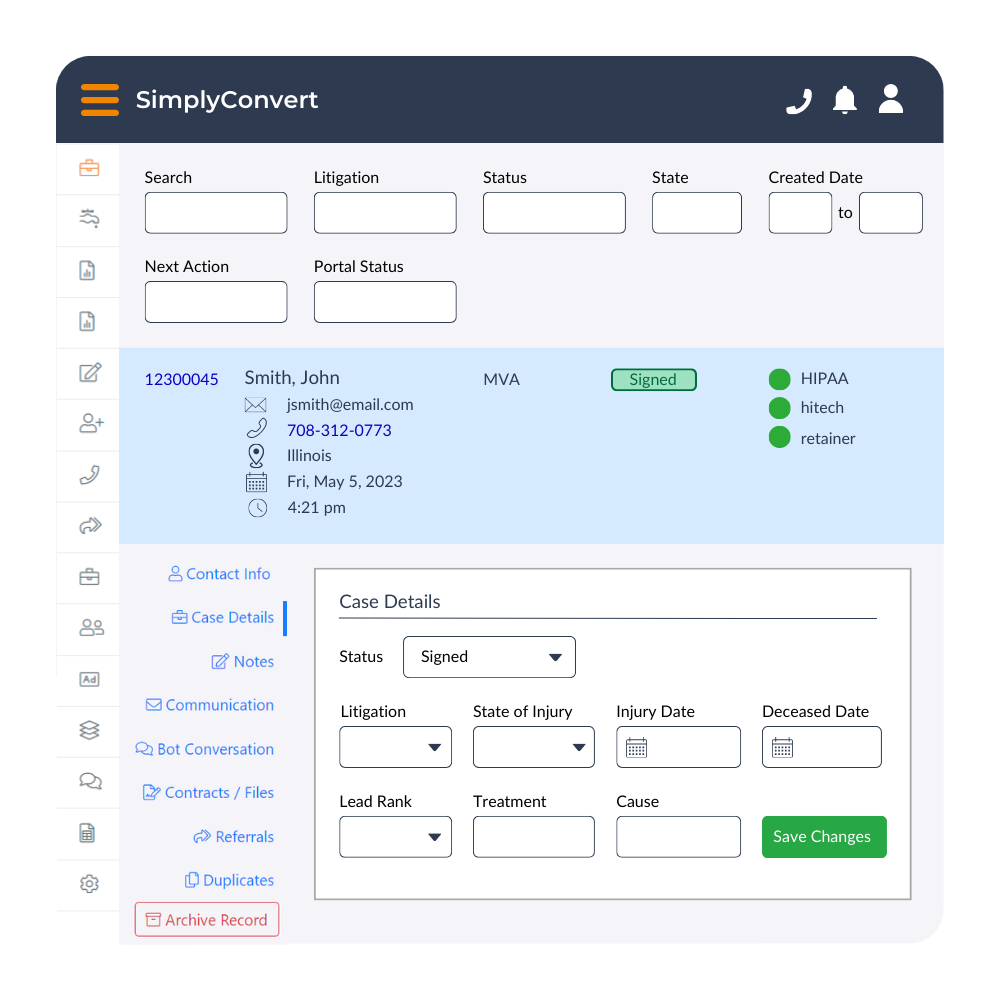 Client Relationship Management
(CRM)
Meet with your Client, Fully Prepared to Discuss their Case
SimplyConvert's CRM for law firms helps you manage your relationships with potential and signed clients in real-time from all lead sources. With client details and contact information organized in your CRM, you can easily keep track of interactions and communications, and improve overall client relationships.
Easily find all the information you need in the SimplyConvert CRM, specifically tailored to the needs of law firms.

Access all the details you need:
Read the bot conversation
Review staff notes regarding the case
Manage and store required forms
Communicate with the client via phone, text, email
Review client communications: phone calls, emails, texts, correspondence
Streamline Communication, Keep Clients Engaged and Informed
SimplyConvert's integrated mass email tool enhances your firm's communication capabilities, allowing you to efficiently send targeted, personalized emails to specific groups of clients or contacts. This can include newsletters, requests for information, and other important updates.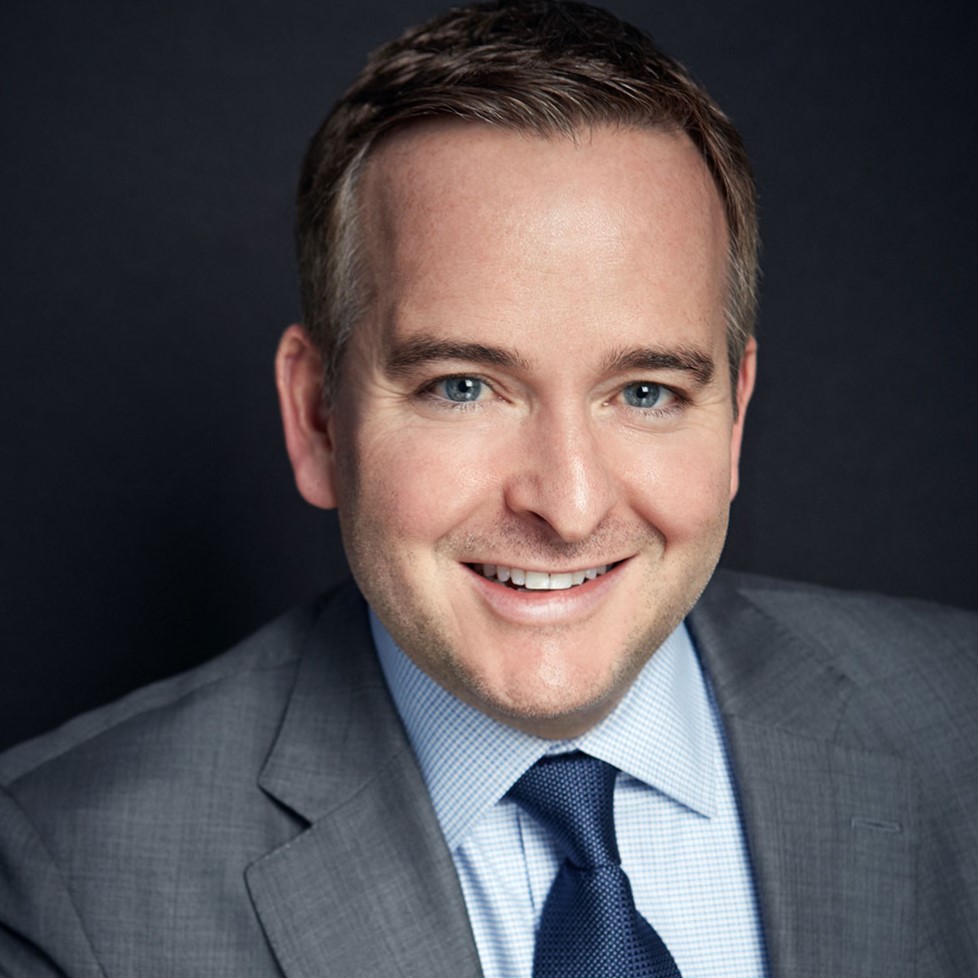 "Now that we are signing up cases through SimplyConvert, I see how next level this is. It's awesome!"
Mike Agruss
Founder & CEO | Mike Agruss Law, Chicago, IL
Centrally Manage Inbound & Outbound Referrals and Co-Counsel Deals
Keep track of your communications and fee agreements with co-counsel and keeps everyone on the same page with real-time reporting. Referrals have never been easier.
Refer Cases with a Click
Get Notified When New Cases Come In
Automate Referrals with Playbooks
Track All Referrals in One Place
Join the SimplyConvert Referral Community
SimplyConvert has a community of trusted lawyers across the country. Let us help you find a home for qualified potential clients in different jurisdictions or outside your area of expertise.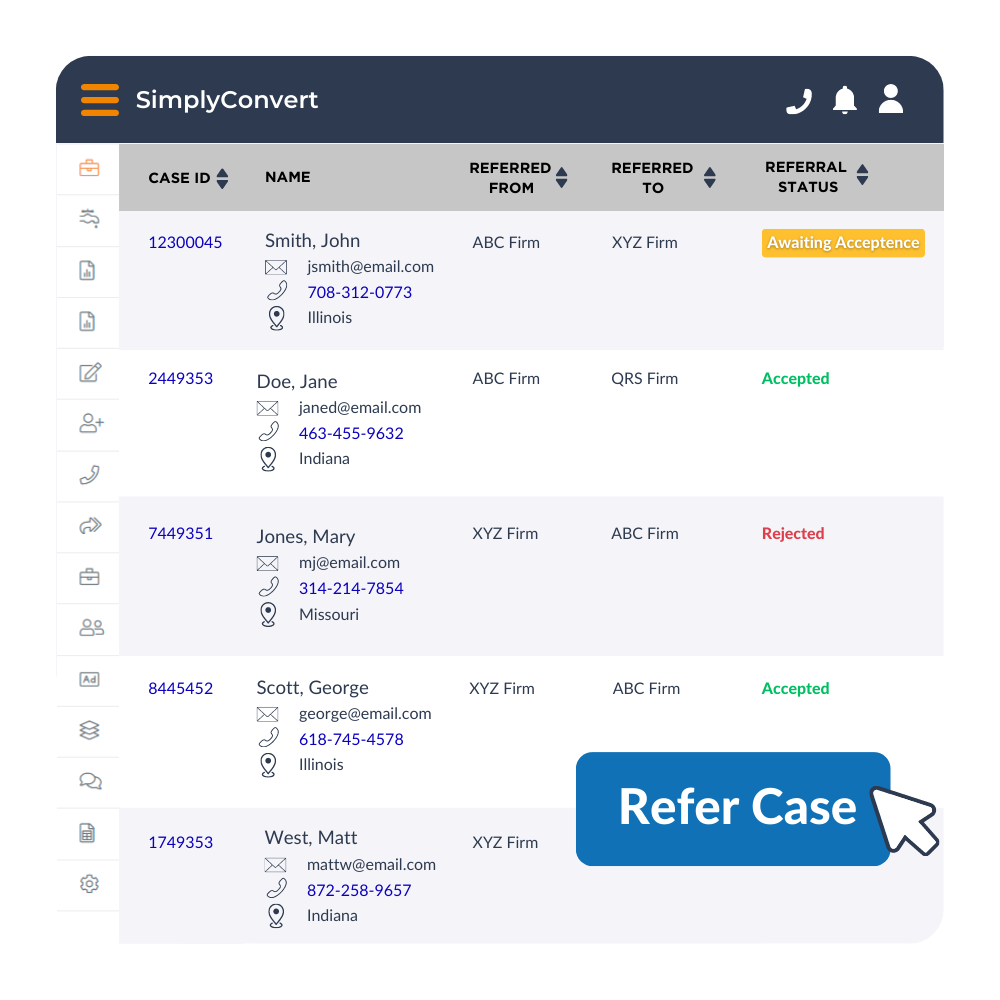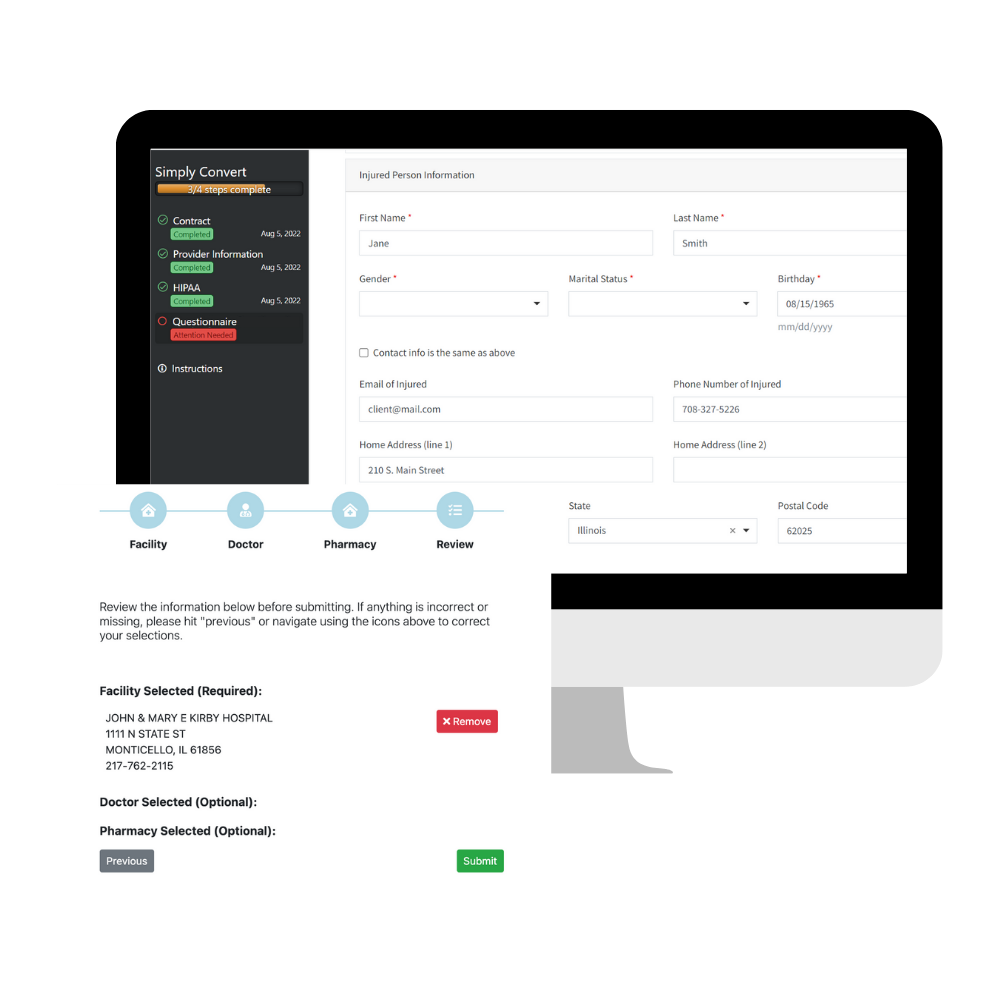 Allow Clients to Provide Information through Secure Client Portal
Streamline the completion of all necessary documents and obtain electronic signatures from your clients. Clients can complete questionnaires on their own, with the help of your staff or SimplyConvert's intake team, ensuring your cases are ready to be filed.
Treater Database
SimplyConvert's Treater Database helps you get medical records right the first time. Clients "select" treaters, facilities, and pharmacies through our healthcare database, ensuring you have the correct contact information.
Intelligent
Data Management
SimplyConvert harnesses the power of your data. Our approach to client data governance allows you to manage countless data points for thousands of individual clients while maintaining bird's eye visibility and control over your entire caseload in real-time. SimplyConvert turns your data into actionable insights.

With all the information you need at your fingertips, you are better equipped to communicate with clients, co-counsel, referral partners, and experts.

SimplyConvert's data architecture ensures your client information is organized, secure, and easily accessible. We believe in making integrations easy so that you can engage specialized providers for necessary services in any phase of the litigation (i.e. medical record retrieval, lien resolution, etc.), driving efficiency, transparency, and accountability.