Intentional Torts
Cutting-edge Intake & Client Management Platform for
intentional tort lawyers

.
When deliberate actions cause harm, your clients need lawyers with the tools capable of securing justice and compensation.

With SimplyConvert's tailored solutions for intentional tort law firms you can simplify your client management — so you can concentrate on securing justice and compensation for your clients.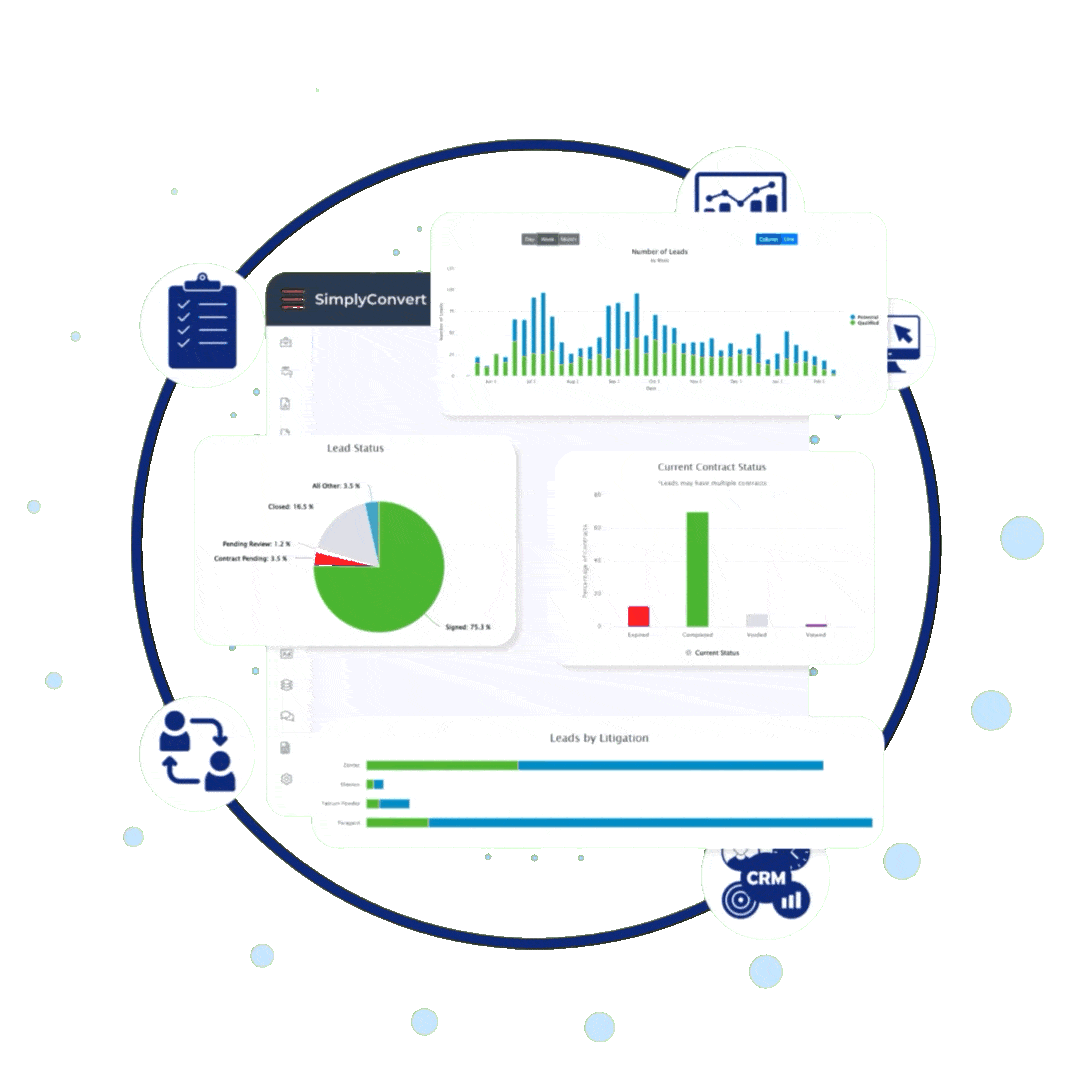 The Premier Choice for Intentional Tort Law Firms
Discover why intentional tort attorneys trust SimplyConvert to enhance their client representation and optimize their practice's efficiency.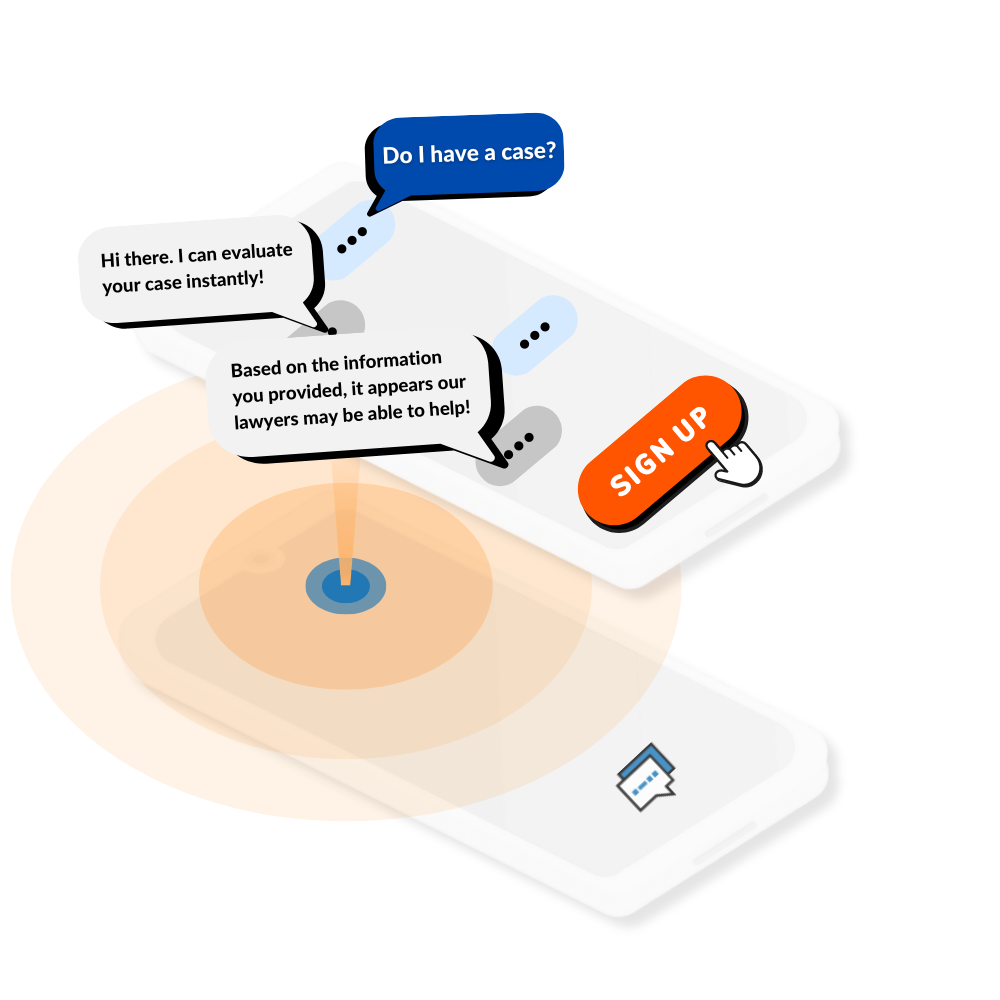 Intentional Torts

Client Intake Automation
No more clients deterred when sharing sensitive case details and confidential information.
With our secure Client Intake system, you can ensure absolute confidentiality, build client trust, and facilitate the sharing of sensitive case details.

Say goodbye to the apprehension associated with handling sensitive information and welcome a new era of secured confidence and client trust.
Seamlessly handle sensitive details with unmatched security measures.

Lay the foundation of trust, one encrypted detail at a time.

Step into an age where confidentiality and client assurance go hand in hand.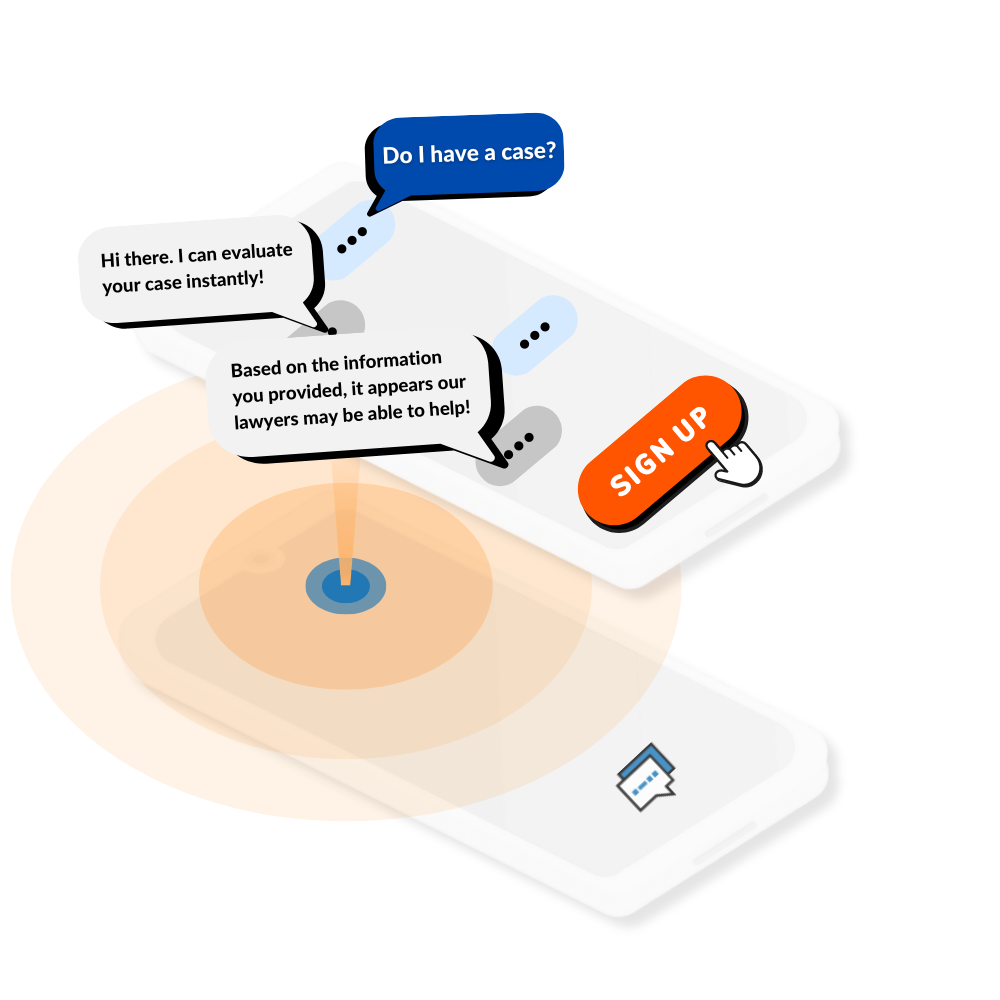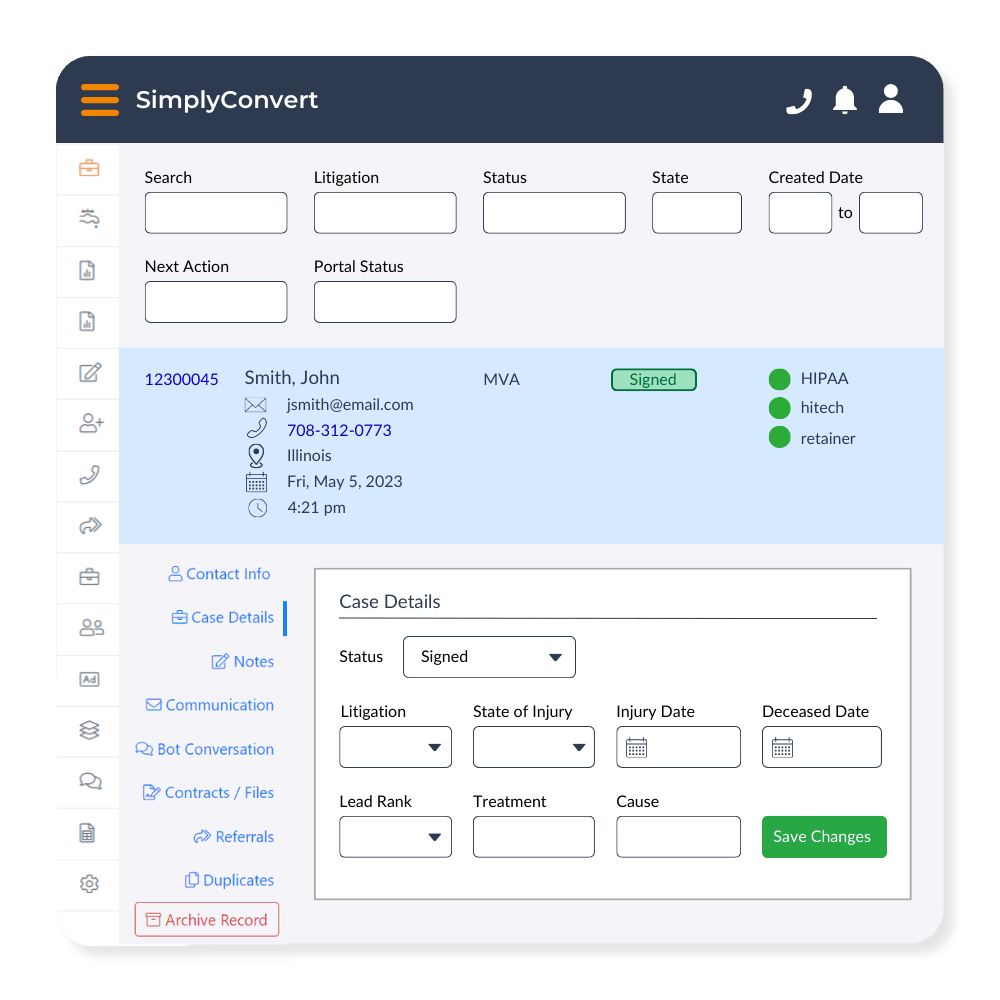 With our innovative CRM, seamlessly bridge communication gaps, elevate your client management game, and retain clients like never before.

Wave away the errors of the past and welcome a future where client loyalty stands strong.
Unified client communication for proactive engagement.

Efficient case tracking ensures no client feels overlooked.

Strengthen client relationships and build unwavering loyalty.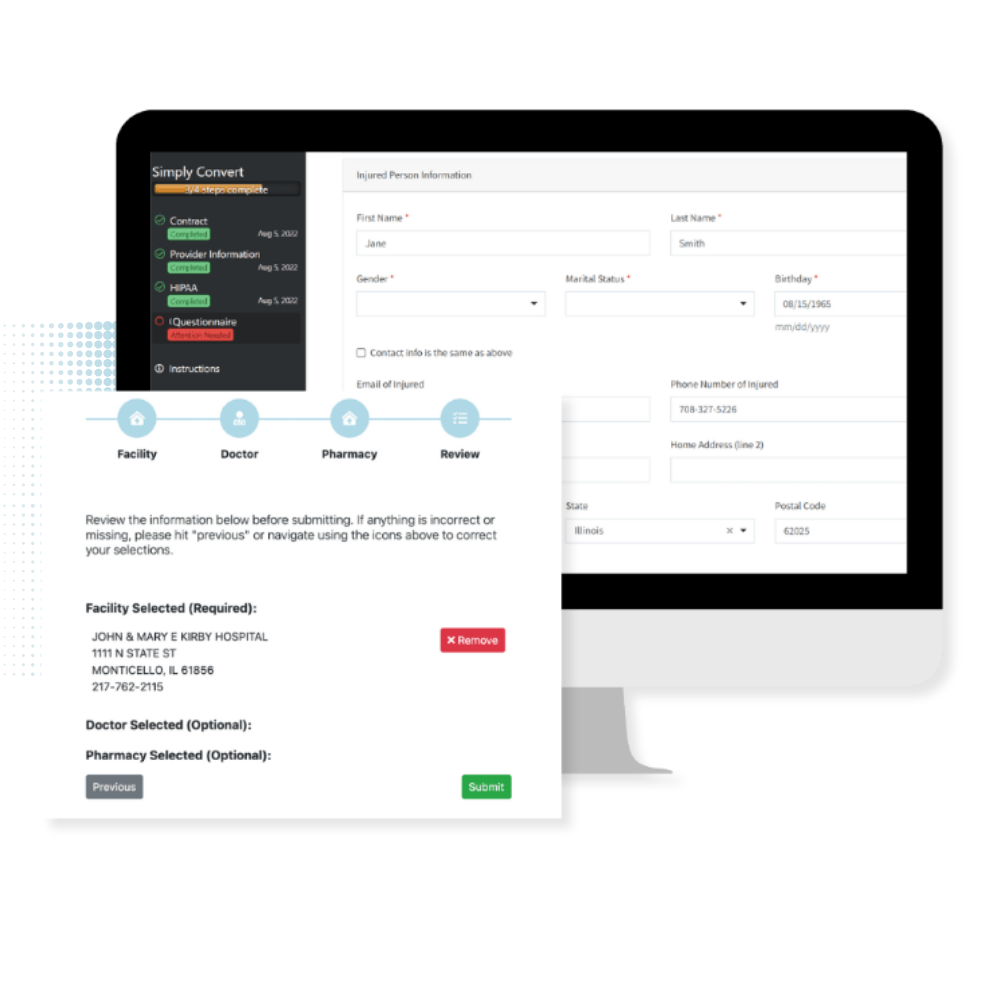 Client Portal

for Intentional Torts Law Firms
No more worries about sharing sensitive information via unsecure channels.
With our Client Portal, elevate the security of your information exchanges.

Harness the power of our protected networks, guaranteeing that every bit of sensitive information remains in the trusted hands of the client and the law firm, and nowhere else.
Seamless yet secure communication channels for information sharing.

Advanced security protocols keep client data inviolable.

A portal built on trust, discretion, and cutting-edge security measures.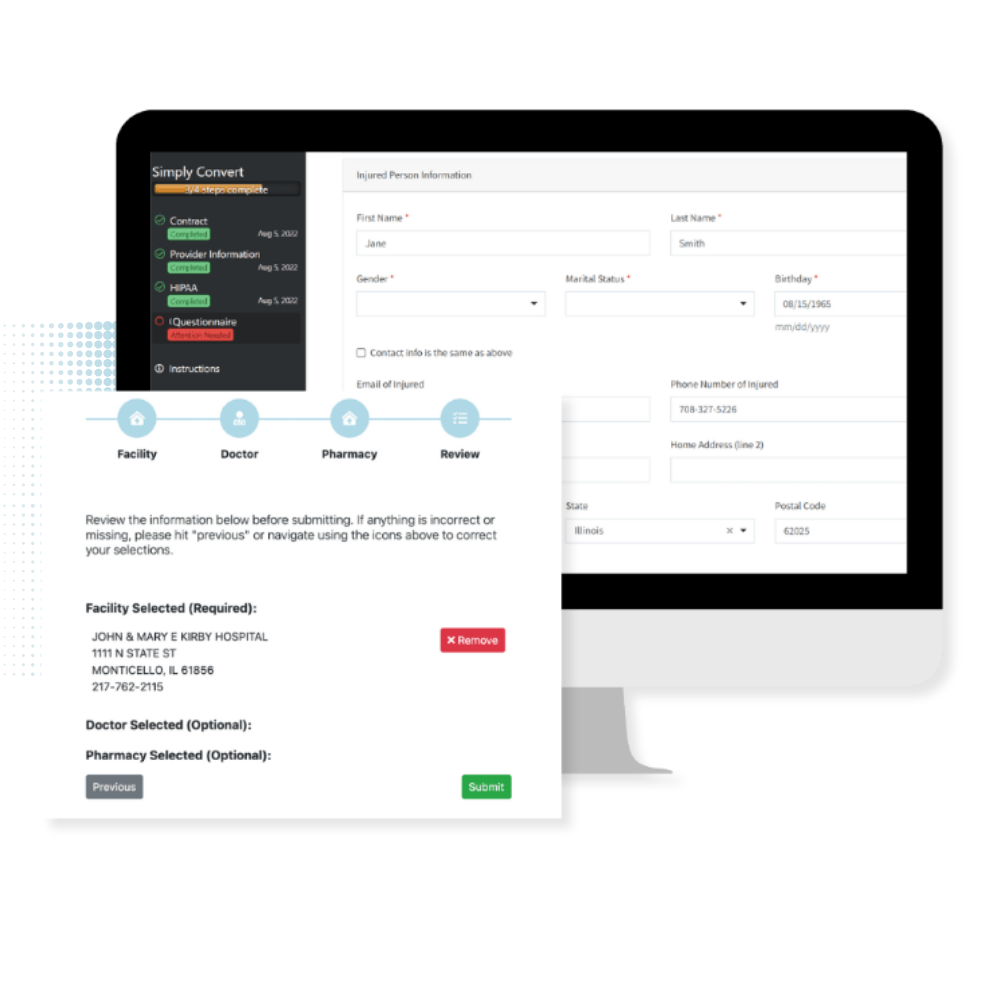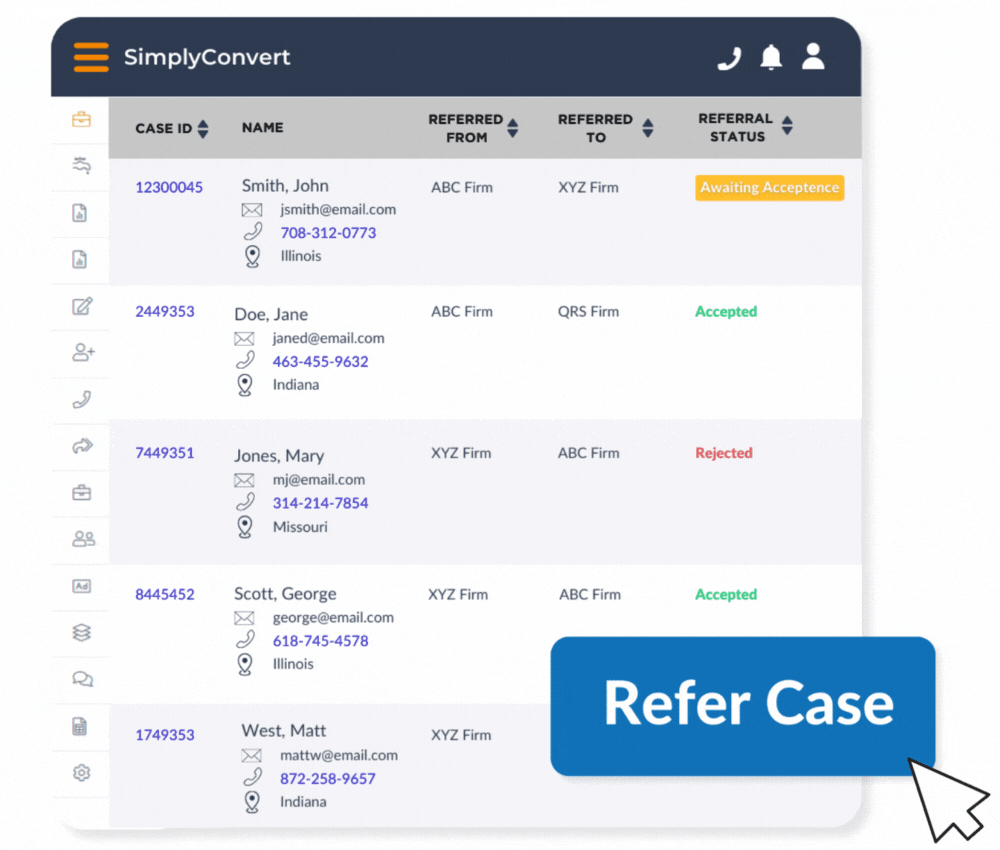 With our Referral Platform, safeguard every vital document and detail throughout the referral journey.

No more requests for clients to submit the same information twice, or the trauma of retelling their story. Embrace a future of considerate, efficient, and comprehensive case transfers.
Streamlined transfers guarantee all documents are in place, and remain in place.

Clients feel heard and valued, with no need for repeating traumatic details.

Step into an era of referrals that prioritize efficiency and compassion.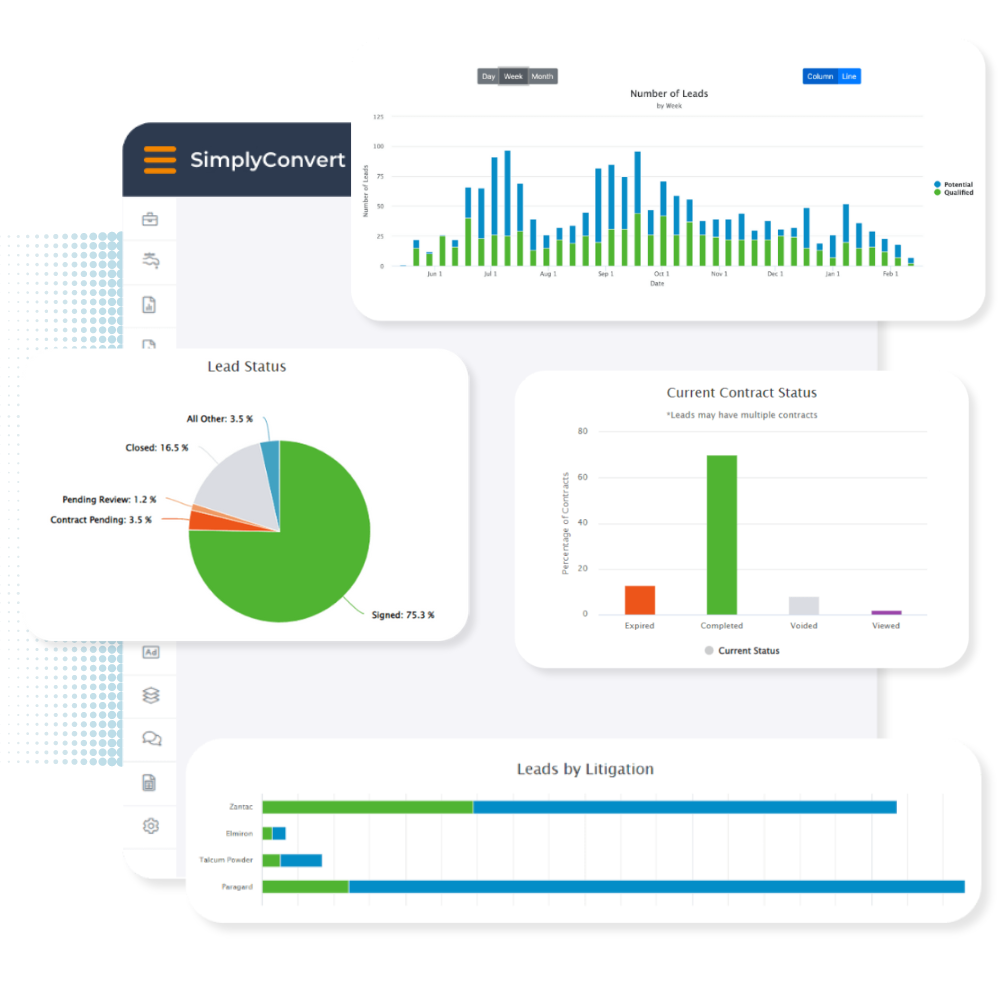 With our advanced Reporting & Insights, shed light on the true efficiency of your case acquisition approaches — ensuring you're always on the most productive path.
Transition from uncertainty to clarity, making each strategy an informed choice backed by insightful analytics.
Illuminate the strengths and weaknesses of your acquisition strategies.

Make every decision an evidence-based one.

From shadows of doubt to the brightness of clarity, let data lead the way.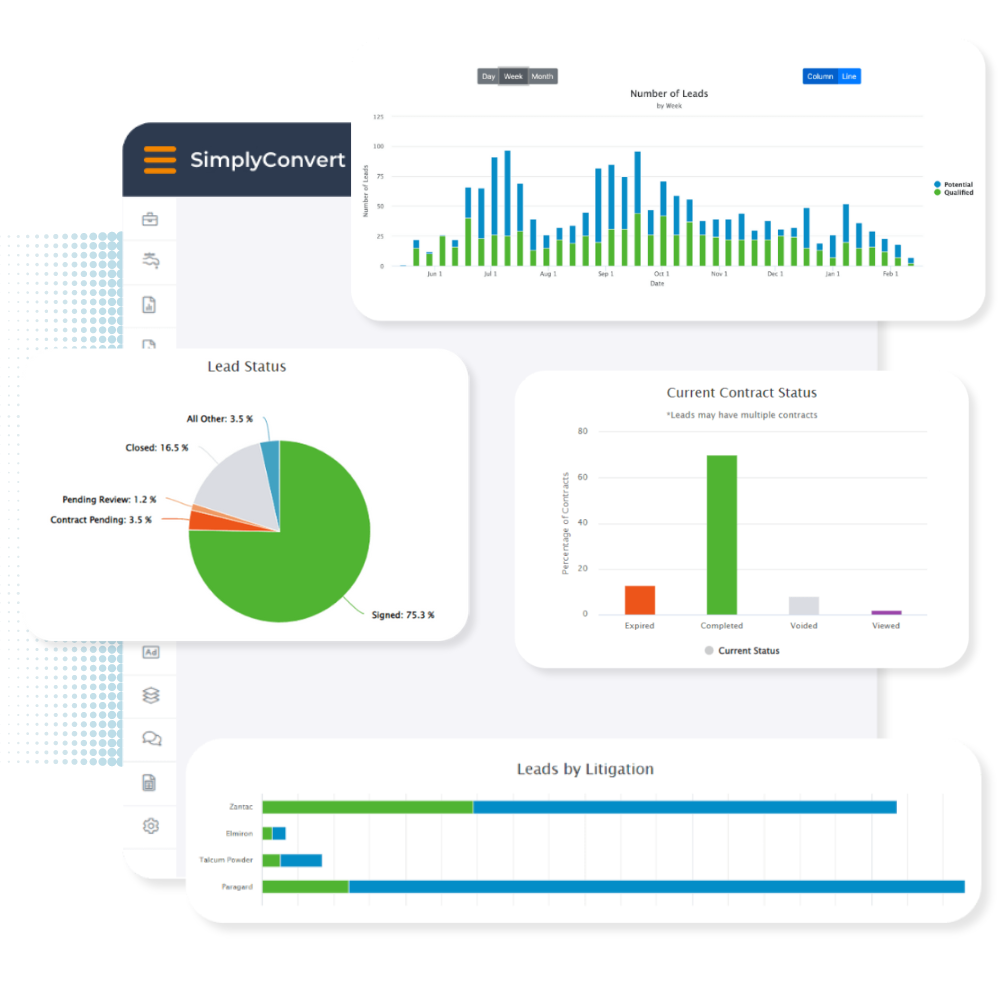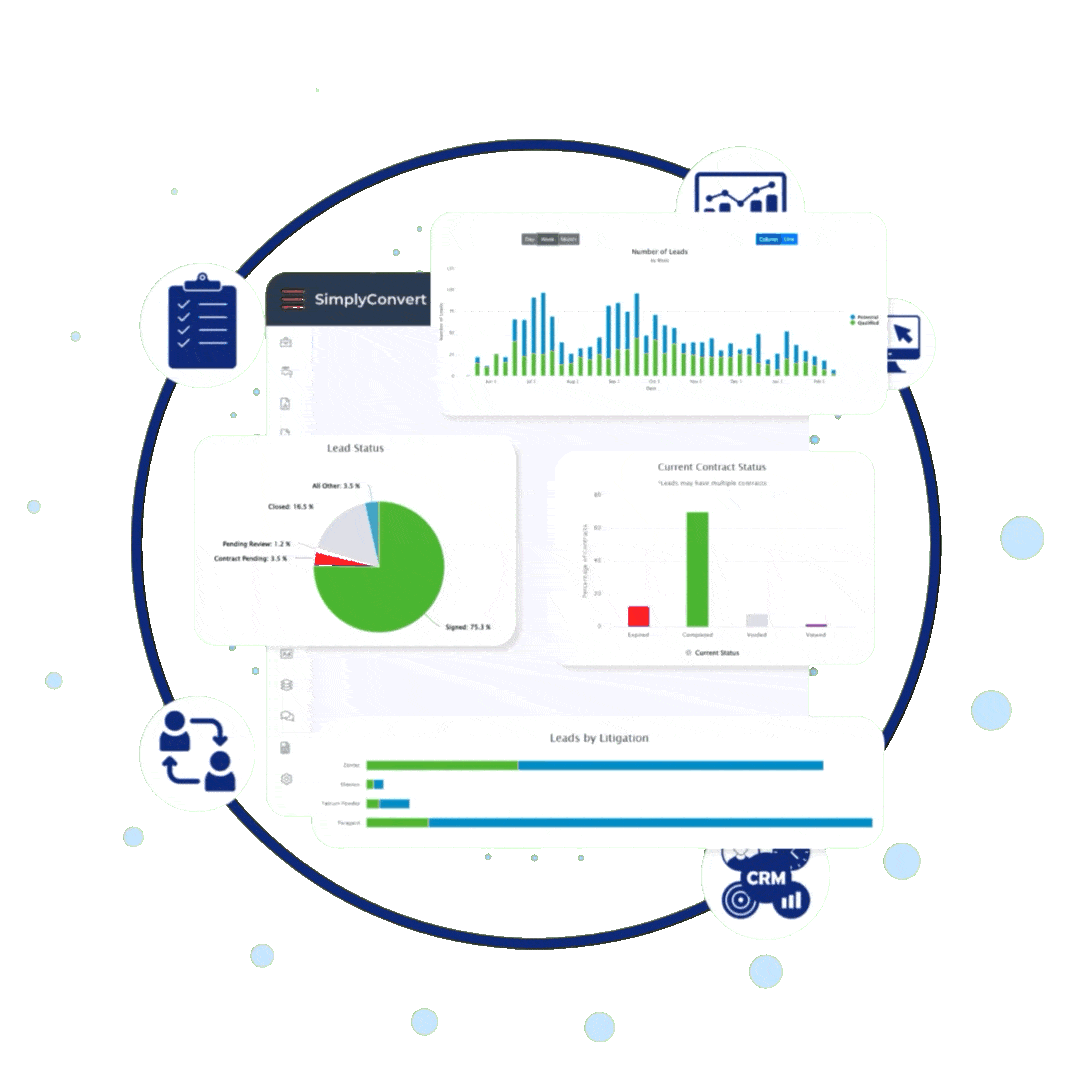 Intake & Data Management

for Intentional Torts Law Firms
This All Creates — A Complete Client Intake Solution That Works for Your Law Firm.
When your case gets messy, you need a legal CRM that won't fall short and leave back-end work that takes you away from front-facing time with your clients.
SimplyConvert is your comprehensive client intake and case management solution that prioritizes both efficiency and growth at every step for personal injury law firms.
Less time wasted on redundent intake tasks.

More time spent on other business growth initiatives.

No more missed opportunities due to slow responses (or no responses).
"Our goal was to convert more leads after-hours and on weekends. Compared to previous live chat providers, SimplyConvert has greatly exceeded our expectations. We value them as a partner and are very excited about the success that we have seen in the first year."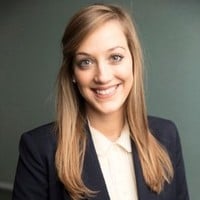 Chelsie Coker King
Marketing Director | Farris, Riley & Pitt LLP
With SimplyConvert you can create a seamless workflow with integrations.